An art tradition I've been keeping to for about as long as Inktober is my holiday card. This year marks number 4 in a series of winter/holiday-themed postcards that get physically mailed out to an increasing list of friends and family.
Overall, this is the most use my printer gets in a year, meaning I typically only have to buy ink once a year. This year, however, marks the first time I've had to go back for ink after exhausting the previous refills. I blame myself; this year's card is much more colorful while last year's was easily the most minimalistic (to the point I almost felt guilty about sending it out, like I was shortchanging everyone). In any case, the cartridges aren't particularly expensive, even for an inkjet printer. If you didn't know, the reason for ink cartridges being as expensive as they are is a way to keep the initial upfront cost of the printer down. In my case, my printer's cost was kept especially down because I bought it as part of a Black Friday deal in 2017.
The real irony of this printer is that although it's marketed as a business printer, what with it looking like a miniature Xerox machine and all its product photos showing it print up super serious business-type stuff like invoices and graphs, it's one of the worst printers I've ever had for documents. I'm not kidding when I say I have to try at least two or three times to get a page of anything to look right. However, when it comes to printing photos, the thing that's basically an afterthought, it's pretty damn good. Printing borderless is a bit tricky, but I blame the software more than anything. If I need to print a document and I literally used it the day before, I have to recalibrate it, or I'm just going to be getting an unreadable mess of pink and yellow dots in a grid that looks nothing like the bulleted list I'd written up in Google Docs. If I print up a 4x6 photo, when I haven't used the thing in months, it gets it right the first time every time. That should make me want to beat the Epson crew with a stick, but it's rather sort of bolstered my respect for them and makes me want to stay.
Touching back on the touchy subject of overpriced ink cartridges, even if I spring for the whole package with the extra large black cartridge (no such option for any of the colors), it's maybe 5 or 10USD more than the printer's original cost. Couple that with rarely if ever needing to print a document, and I'd call this one a victory.
Upgrades are inevitable, though. While the ink is still available, every compatible model listed on its label has been discontinued for about as long as mine has, which was the year I bought it because it wasn't just any Black Friday deal, but a clearance deal on Black Friday. Any lower, and they'd pay me to take it, is my point. Also, as much as I borderline admire its ability to almost exclusively make art prints, I know it's still not the best that's out there and I've reached a point where I can be a little more choosy and discerning in my equipment. Most photo printers out there have more than the typical Cyan, Magenta, and Yellow cartridges, with some adding a Light Cyan and Magenta to further the color range. At least one model in Epson's catalog boasts Gray and Red cartridges to round out the gamut. That's hard core, right there. I'm still doing my research, and it seems a certain global event has caused some supply issues on Epson's side of things. Nearly everything is listed as out of stock besides their paper and ink. Many models are still available from external sites like B&H or Microcenter, but I'm still taking it as a sign to wait. I'll know for sure when I step out of the H&R Block in February.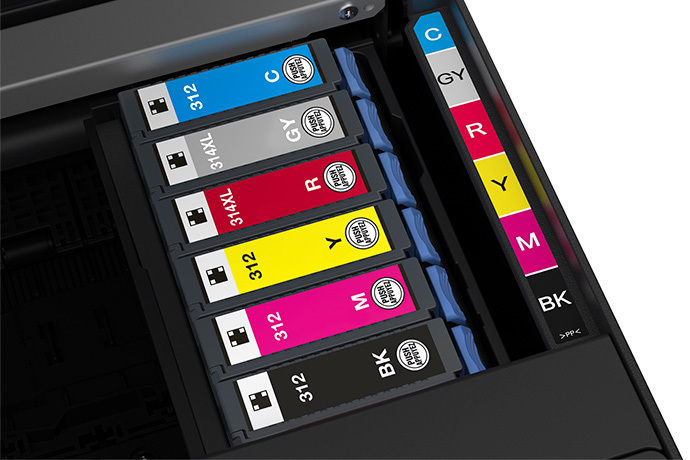 The world is a carousel of Blood and Stone!
Okay, real and proper red ink is awesome and all, but what if I still need to print a document? I mean, the photo printers will be fine when the time comes, but I feel this is missing a trick. I've more or less come to the conclusion that when I print a photo on my current printer, it messes up the alignment of the heads so that plain documents come out looking awful. Newer printers or ones more dedicated to photos likely won't have this problem, but I think my solution is going to be getting two separate printers. One will be for photos, and one will be for documents, plus a special bag of chips I'll pop open in a moment.
Outside of your work, the printers you're likely most used to are known as inkjet. We're not going to get into the nitty-gritty nuts-and-bolts of what that technically means. The most important takeaway is it uses ink cartridges that have to be replaced semi-frequently after a relatively small number of prints. I say "relatively" because if you work in a place that has to print a lot of documents, you're probably somewhat familiar with a laser printer. Again, without popping the bonnet on the inner workings, the main difference is that instead of small cartridges full of ink, laser printers have large cartridges of toner, sometimes referred to as drums. Toner is still technically ink, but it's a slightly different chemical mixture due to how the printer works. The key advantage of laser printers is, even out the box with the "starter kit" cartridge, they can print hundreds of pages, with full cartridges on some models reaching over 1,000. Yes, they are more expensive than inkjet cartridges, but they're still replaced far less frequently. They also print fairly fast. While color options exist, they're supposedly not that great at printing photos. In fact, most of them can't handle anything beyond plain typing paper. This makes the research a little tricky as it's not always consistent from site to site which printers can handle things like envelopes or, more importantly, card stock.
So, why a laser printer at all? More importantly, where's that bag of chips promised? Well, many years ago, I learned of an extra special little trick that laser printers can do with gold leaf and a laminator. I have no clue who discovered this, but whoever they are, they are a legitimate and fully-certified genius. You simply have to see it to believe it.
Oh, and did I mention gold leaf comes in other metals? Also, black paper exists. Think about it.